Click here to visit the Los Toros Mission web site.
Feliz Navidad from Los Toros!
The people in Los Toros wish you all a Merry Christmas! How do they celebrate Christmas? Alvaro, a college student from Los Toros who is studying languages, tells us about their Christmas customs.
Celebrating the birth of Jesus is very important to them. In addition to going to Mass, they celebrate a special meal with as many family members as possible. Those who live far away come home for this Christmas meal.
In Los Toros, sancocho is a favorite food for Christmas dinner. It is a stew often made with several meats, yucca, squash, green banana and corn. Each cook can vary the ingredients as desired. Other popular Dominican foods for Christmas are chenchen, (similar to pilaf made from cracked corn), and roast pork. Many Domincans also have telera, a special kind of bread. And of course there is always rice and gandules (pigeon peas).
Another Christmas custom is the giving of aguinaldos, the gift of songs. Friends and family members gather in groups (called parrandas). They walk down the streets singing Christmas songs, playing instruments and making lots of noise. When they arrive at a neighbor's house, they are welcomed in where they sing Christmas songs. They are offered treats like hot chocolate, ginger tea, coffee, cookies and food. Religious Christmas songs are called villancicos.
The Feast of the Three Kings is also celebrated in a much bigger way than we do here.
The people of Los Toros remember us in their prayers send their warm wishes for Feliz Navidad, Merry Christmas!
For more information about our parish mission in Los Toros, Dominican Republic, visit www.lostorosmission.com.
Los Toros Council meetings are held on the third  Wednesday of each month at 7:00 p.m. in our lower level Conference Rooms B and C. All are welcome to attend.
---
Library Cleanup
To show pride in their village and their appreciation and gratitude, a group of young people in Los Toros spent a day cleaning up the area around the library. The library was built through the generosity and collaboration of members of St. Joseph Parish.
Recently, the library has received some needed repairs and upgrades. During the Mission Trip last May, new exterior lights were installed. More recently, tree branches had to be trimmed so falling leaves won't clog the gutters and create leaks and mildew problems. Ways to improve ventilation inside the library are now being reviewed. Several of the computers have become obsolete and need to be replaced.
The library will soon offer computer and internet classes five evenings a week. Some of the students and graduates of the" Beca" scholarship program will be teaching those classes.
---
Our St. Joseph Los Toros Council, along with a committee in Los Toros, will be sponsoring a Mission Retreat for adults.
Note: This Mission Retreat will not include working at the mission or attending meetings other than the Retreat gatherings. All meetings and sharing will be done in English, no Spanish-speaking skills are required. This retreat is meant to be an opportunity for a spiritual experience in Los Toros.
The Mission Retreat will include three days in Los Toros with daily reflections guided by Deacon Don Kabara. It will require two days for travel and a day in Santo Domingo visiting religious and historical shrines. The cost will be approximately $150.00, plus airfare.
Possible 2018 Mission Retreat dates include:
♦ February 2nd – 7th
♦ February 23rd – 28th
♦ March 2nd – 7th
The Mission Retreat will be guided by Deacon Don Kabara. For more information contact Deacon Don at sr.dkabara@gmail.com or 262-377-7527.
---
GREAT NEWS! Reserve your spot today on the next Los Toros Mission Trip!
Are you interested in going to Los Toros? The dates for the next Young Adult and Adult Mission trip have been set. We will be traveling to Los Toros on Tuesday May 22, 2018 and returning on Tuesday, June 5, 2018! Can't stay that long? You have the option to return early, if you need to.
Our focus for this trip will be on the dental program, laying cement floors in homes, English classes and continuing to build our relationship of friendship and support as sister parishes. We will conclude the trip with a day of fun at the beach and sightseeing in the capital city.
To learn more or to reserve your spot today, contact Cathy Mateo Zayas at cathymateozayas@gmail.com or 262-720-1884.
Those under the age of 18 who would like to attend this awesome mission trip are welcome when accompanied by a parent.
For more information visit www.lostorosmission.com  or go to Facebook: Mission YAME Los Toros. Los Toros Council meetings are open to all who are interested. Meetings are held on the third Wednesday of each month at 7:00 p.m.
---
Los Toros October Mission Trip Reports Current Needs in Los Toros.
Two members of St Joseph Parish Los Toros Mission Council, Mike Weber and Socrates Mateo, were in Los Toros October 26 through October 31 listening and offering guidance and support to the Los Toros Mission committee members there. Mike and Socrates reported on the progress of the current needs and ongoing services offered by the mission committees there.
The Sewing Center is now hosting classes Monday through Friday, four hours a day. A large group comes in each Friday from nearby towns. All the sewing machines are in use except one that needs a part.
The church building has been painted inside and out. The people there are hoping to get a figure of Christ to attach to the cross to place above the altar.
The Mission House is in good condition. New batteries will soon be installed to replace those damaged in the recent hurricane. As in many places in the third world, electricity is unreliable. For those frequent periods of time when the power system in down in the village, they use a group of car batteries with adapters called "inverters" to have light and power in a home. Storms and other events can result in short circuits and battery damage, so they are hoping to add a fuse/circuit-breaker box.
The Library needs better ventilation as the tropical humidity causes a musty smell in the main computer room and is not good for computers. A number of computers are not working and need repair. Solutions, such as opening an interior wall or adding a window to the outside, are being reviewed. They are working on a program to teach computer and internet skills on weekday evenings.
The Prenatal and Dental Clinic are serving many in the Village and surrounding communities. Currently they are assisting 16 expectant mothers and 14 mothers who gave birth in the past year with medical checkups, transportation to health care appointments, and help with things like milk, formula and clothing. Only one death occurred last year and that was a result of an infection contracted in a hospital.
St. Vincent de Paul/Human Concerns in Los Toros meets monthly, or more often when needed, to review requests for help and to prioritize and allocate available funds.
A number of people are being helped with prescription medications that they are not able to afford. They have a request from one person who needs a pacemaker. There are people who need wheel chairs. The number of people requesting food assistance has increased.
They have a waiting list of seven families asking for help to get cement floors in their homes. There are also requests for help to repair roof leaks from the recent hurricane, for bathroom plumbing fixtures, and for drainage improvements so rainwater does runs away from and not into a home.
For more information about the Los Toros Mission go to www.lostorosmission.com or come to the Los Toros Council meeting on the third Wednesday of each month.
---
Los Toros Mission: "To live the Gospel by sharing our spiritual, cultural, and material resources in solidarity with our sisters and brothers in Los Toros, empowering them to enhance their education, health, community development and spiritual growth".
Looking for a no cost way to support the Los Toros Mission? Give while you shop! Before making your next purchase on Amazon, visit Amazon Smile and support the Los Toros Foundation.
Simply visit smile.amazon.com, shop as usual, and select the "Los Toros Foundation" as your charity of choice when you checkout. Amazon Smile is the same Amazon you know. Same products, same prices, same service. It's that easy!  
You shop. Amazon Gives.
Amazon will donate 0.5% of the price of your eligible Amazon Smile purchases toLos Toros Foundation whenever you shop on Amazon Smile.
Support your charitable organization by starting your shopping at amazon.com and selecting Los Toros Foundation as your charity.
Questions?To learn more about how Amazon Smile can donate to Los Toros when you make any purchase visit: amazon.com
Why not set your selection of Los Toros now and bookmark smile.mazon.com so it's ready the next time you make a purchase?
Thank you for your generous support of our parish mission!
UNDERSTANDING OUR MISSION IN LOS TOROS
Our mission in Los Toros is a mission of solidarity. What does solidarity mean? These Principles of solidarity-based partnerships, taken from Catholic Relief Services' Parish Partnership Manual express it well.
Principles of solidarity-based partnerships
I. Emphasize relationship over resources.
True partnerships build and nurture a familial relationship over a period of time. When the relationship is valued above all, it allows for mutual participation and transformation, and all are invited to participate equally, as we all have the ability to love and pray and be present to one another. In partnerships based on resources, the partner with little material resources is excluded from fully participating, and relegated to only receiving.
II. Practice mutuality and equality.
True mutuality allows each partner to function from a place of strength rather than weakness. Each acknowledges the wholeness of the other. We must be alert to the historic imbalances of power between the North and the South, and the way that plays out in a relationship. We need to intentionally incorporate opportunities for dialogue, planning, assessing, challenging, and reflecting together, in order to not to fall into the trap of the giver and the receiver, of the superior and the inferior.
III. Seek to give and receive, learn and teach.
True relationship is a constant give and take. We all bring something to the table and we all have poverties that need to be addressed. This requires a spirit of humility, recognizing that we are mutually interdependent and need each other.
IV. Work to change unjust systems and structures.
When we focus on the relationship, ask open-ended questions, and learn from our partners, they invite us in to see and understand their reality – their joys and celebrations, as well as their sorrows and struggles. We begin to recognize the structures and systems that often keep people in poverty and are unacceptably unjust, and are challenged to gently confront our own role and contribution to this injustice, whether through our inaction, or through our consumer choices, our levels of consumption, etc. We are then called to work to change those systems and/or our own personal habits and activities, for the sake of those we have come to know and love (and others who share the same challenges).
V. Deepen our faith by experiencing the universal catholic church.
Partnership calls us more fully into the Church as one Body of Christ, with many unique parts offering different gifts, while united Christ. We are challenged by our partner's witness of faith amidst adversity. Coming to know brothers and sisters from another culture, we learn new ways of understanding the Scriptures and see new ways of being a parish community. We experience our oneness in Christ, we enlarge our tent, and expand our sense of shared humanity, not only with our parish partner, but with all God's people in the universal church.
For more information about our parish mission in Los Toros, visit www.lostorosmission.com. All are welcome to attend our Mission Council meetings. Dates and times are announced in the parish bulletin under THIS WEEK IN OUR PARISH.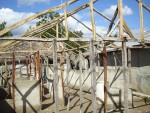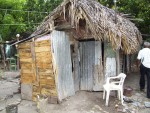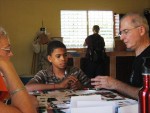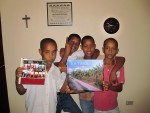 Our first mission visit to Los Toros was in February of 1987; what has happened since then? Los Toros has changed dramatically and we are happy to say we had a role in its growth. But we did not change the community. Through self-determination, intense community organization and collaboration within and outside of the community the community changed itself! We are proud of our sisters and brothers in Los Toros and we are happy they invited us to be part of their growth.
We embrace the fourfold Philosophy of:
Perception, Learning, Understanding
Acting with Compassion and Solidarity
Enabling others to help themselves
Responsibility and Accountability
Through the diligent sharing of ideas, resources and culture we seek to build a relationship of friendship, trust and charity.
To be a part of the Los Toros Mission or for additional information…visit the Los Toros Web Site. 

To find out how you may share in the mission, contact any of members of the Los Toros Mission
committees or contact Judy Wendtlandt at rwendtlandt@wi.rr.com.
Mission Statement
To live the Gospel by sharing our spiritual, cultural, and material resources in solidarity with our sisters and brothers in Los Toros, empowering them to enhance their education, health, community development and spiritual growth.