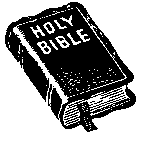 **Download Guidelines and Alternate information
Next Schedule Period:  The next schedule begins 8-9 September 2018 and continues through Thanksgiving Day, 22 November 2018.Please send me your "do not schedule dates" for the months of September-November no later than 15 July 2018 at faye@msquad.net.
Lector Responsibilities Are Important! Please remember that it is your responsibility to secure a substitute if you cannot fulfill your assignment as scheduled. The first person to call is the *alternate lector. When assigned as the *alternate lector, you are expected to prepare both the first and second readings for the assigned liturgy and check in at the sacristy 15-20 minutes before Mass to make certain that both lectors 1 and 2 are present. If either (or both) is absent, then the *alternate lector proclaims the respective reading(s). If both lector 1 and 2 are present, the *alternate lector offers the Prayer of the Faithful (unless a deacon is present).
***Reminder: When it is your time to approach the ambo to proclaim your reading, please make certain that the congregation is seated and has quieted before beginning. God's word is important – we want everyone to hear.
Lectors who serve also in other liturgical ministries (i.e. Eucharist; Acolyte; Hospitality; Music, etc.) are reminded that you are to serve only as a Minister of the Word at the Masses to which you are assigned.
Only in an emergency should one serve in more than one liturgical role during Mass.
Contact: Coordinator – Faye Herrick 262-618-4312 / faye@msquad.net