2021 Stewardship of Treasure Forms
Click on an item below to open it as a pdf file which may then be printed.
If you elect Online Giving, a signed Electronic Giving Authorization must be submitted to the Parish Office.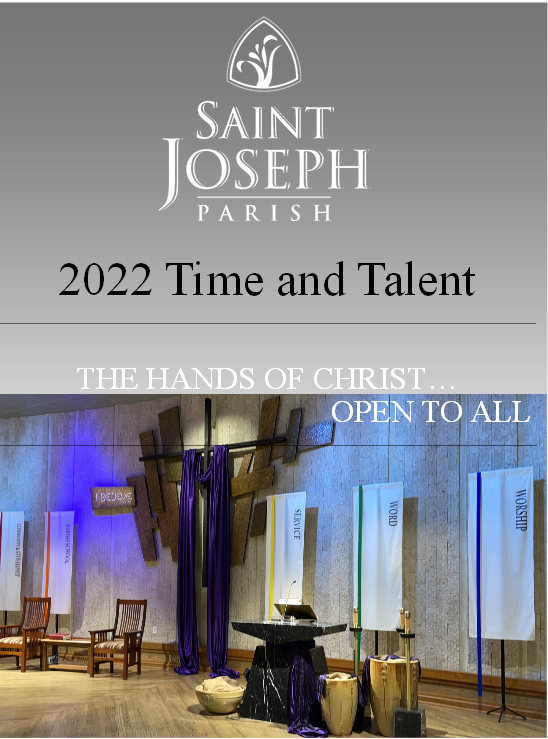 Parish News and Events

Human Concerns Empty Basket-Please check each week since needs often change.
Items needed this time include items for cold weather use:
coats, hats, mittens, gloves, sweatshirts, boots – for men, women and children
Please place your donations in the Human Concerns "Empty Basket" in the front entrance to church.
Hats off to your generosity!

Vino & Veritas ----Wine & Truth
Advent Penance Service - Wednesday, December 14 - 6:30 p.m. in Church
Amazon Smile-Support St. Joseph Parish when buying from Amazon
Are you looking for a no cost way to support St. Joseph Parish? Give while you shop! Before making your next purchase on Amazon, visit Amazon Smile.
Simply visit smile.amazon.com and shop as usual. Amazon Smile is the same Amazon you know. Same products, same prices, same service. It's that easy!  
You shop. Amazon Gives.
Amazon will donate 0.5% of the price of your eligible Amazon Smile purchases to St. Joseph Parish whenever you shop on Amazon Smile.
Support your charitable organization by starting your shopping at smile.amazon.com using the link shown above.
Why not bookmark smile.amazon.com so it's ready the next time you make a purchase?
Thank you for your generous support of our parish!

St. Joseph Parish … Staying In Contact
You can contact a Pastoral Staff member by leaving a message on their office phone. Pastoral Staff has the ability to check voicemail messages from home.
262-375-6500
◉ Ext. 103 for Fr. Nick Baumgardner
◉ Ext. 102 for Scott Wiese
◉ Ext. 106 for Randy Hilgers
◉ Ext. 104 for John Knetzger
◉ Ext. 175 for Sheri Hanson
◉ Ext. 121 for Bonnie Reineking
◉ Ext. 171 for Amanda Matthews
◉ Ext. 122 for Madonne Rauch

Prayer Authorization Form
If you wish to add
your name
to the "Remember To Pray For" list, please complete a Prayer Authorization Form. You will find these forms on the bulletin boards at all entrances to the church or you may download a copy of the form
here
.
Receive Spiritual Communion.
My Jesus, I believe that you are present in the most Blessed Sacrament.
I love You above all things and I desire to receive You into my soul.
Since I cannot now receive You sacramentally, come at least spiritually into my heart.
I embrace You as if You were already there, and unite myself wholly to You.
Never permit me to be separated from You.
Amen.

Life saving information-Automatic External Defibrillators
You Never Know… when you will need to help save a life. As an update for some, and news for others, the parish has 2 Automatic External Defibrillators (AEDs). They are used to evaluate heart rhythms and deliver a potentially lifesaving shock if necessary. Anyone can use them!
1. Located at the top of the stairs leading to the lower church hall. You'll see a 3 dimensional sign facing the worship space. Look for it today, so you'll know where it is during an emergency.
2. Located on the lower level across from the gym doors. During an emergency, if someone says, "get the AED," please do not hesitate. Take it out of the cabinet on the wall and bring to the site, and call 911.
The parish also stocks 3 first aid kits:
1. Usher's Room
2. Kitchenette off Gathering Hall
3. Parish Office Workroom
– even if you just need a Band-Aid 🙂
Prayer Shawl Ministry - third Thursday of the month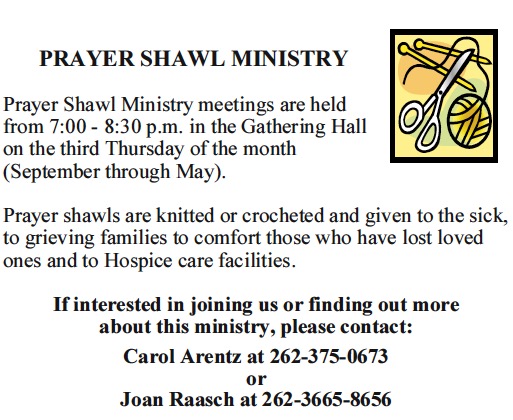 Community and Courtesy News and Events

Be a Eucharistic Minister at Columbia St. Mary.
As a Catholic hospital, committed to continuing the healing ministry of Jesus, Columbia St. Mary in Mequon invites you to consider serving as a volunteer Eucharistic Minister. Volunteer Eucharistic Ministers are valued partners to the Spiritual Care Department and bring Holy Communion to Catholic patients at Columbia St. Mary Ozaukee Hospital. The power of Christ's presence in the Eucharistic, in bedside prayers and in the mindful, compassionate presence of Eucharistic Ministers offers hospitality and healing to those found vulnerable in the hospital.
Are you called to this beautiful lay ministry?
If you would be interested in serving as a Eucharistic Minister at Columbia St. Mary Ozaukee Campus, please contact Bridget Lozano, Columbia St. Mary Ozaukee Volunteer Services Coordinator, at 262-243-7355 or bridget.lozano@ascension.org.
Applications are also available on the CSM website: www.columbia-stmarys.org/volunteer_ozaukee.