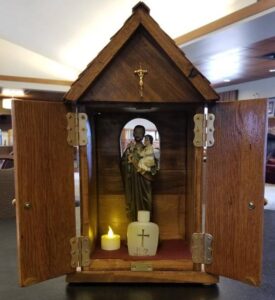 New: Traveling St. Joseph, Our Guardian ~ Journey with St. Joseph ~ Faith in Action
Why not bring our Traveling St. Joseph in your home for nine days? As an added inspiration for our year with St. Joseph we are offering a special devotion to Jesus' earthly father.
The "Traveling St. Joseph, Our Guardian," it is a statue housed in a special case that makes its way from home to home, staying nine days in each home in a living novena. After nine days the shrine comes back to our Parish for the next family to pick up and begin their Novena.
We have our parishioners Stephen Lewis and Don Somogyi to thank for this beautiful devotion. Steve came to us with the idea and he also purchased a beautiful statue of St. Joseph. Don built the beautiful wooden shrine that houses St. Joseph, and Deacon Scott Wiese blessed the shrine. The front medals on the shrine doors came from a rosary that was blessed by Saint John Paull II!
This devotion begun in Grass Lake, Michigan by Father Leo Joseph, director of the Shrine of St. Joseph, Patron of the Suffering and Dying.
"As protector of the Holy Family, who better to invite into our homes than St. Joseph?" according to Father Joseph.
Saint Joseph was a good father and husband to Jesus and Mary. Joseph isn't just the father of Jesus; he is the spiritual father of the entire church and protects everyone who is a part of it. His role, is to guide and protect anyone who is a part of the Catholic family.
Why not invite him home with you and your family.
Accompanying the traveling statue will be suggested prayers, although each family is free to pray however they choose. After nine days the statue moves on to a new family.
Our Journeys start week of March 19th and will go to the end of this year.
Please sign up to bring St. Joseph into your home. Sign up book with weeks detailed are in the back of the gathering hall.
St. Joseph's 2023 Time, Talent and Prayer
Our Time, Talent and Prayer Ministries have been updated to reflect our current and active teams at St. Joseph.
As we continue to strengthen and support our ministries we have found that our parishioners and community reach out to us and participate more frequently when our ministries and committees are active.
Because opportunities to get involved in our parish happen throughout the year we will communicate these occasions for you to help and sign up as they come up.
The new booklet can be found in the gathering hall, on our parish website, and through our parish email communications.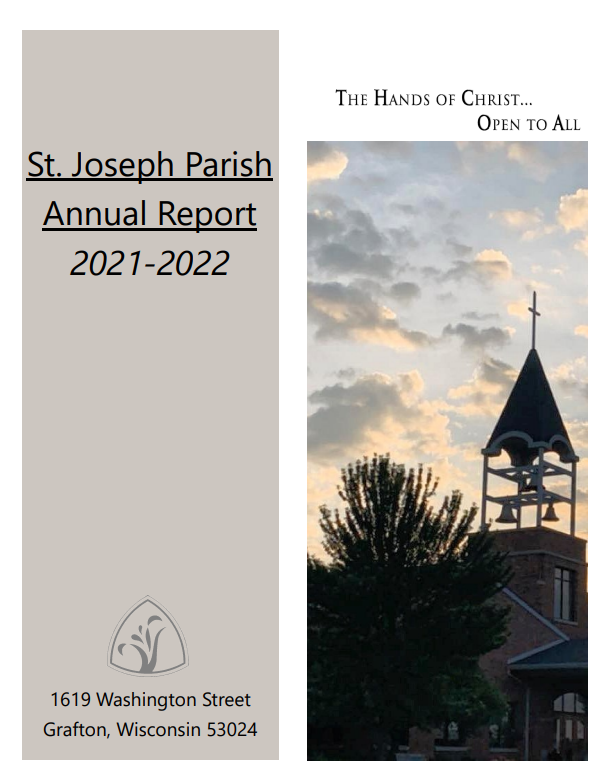 Vision Statement
United in faith and empowered by the Holy Spirit, we at Saint Joseph Parish are a faith community rooted in Christ that strives to live our baptismal call through proclaiming God's word, celebrating Christ's presence among us, and reaching out to God's people in lives of stewardship and service.
Our faith journey is guided by prayer, liturgy, education, and social outreach.
Click on an item below to open it as a pdf file which may then be printed.
If you elect Online Giving, a signed Electronic Giving Authorization must be submitted to the Parish Office.
[/su_spoiler]
Parish News and Events

Community and Courtesy News and Events