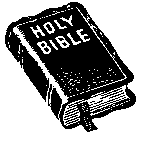 Please read the Special Notes section to learn how this ministry
will be operating during the changes in the Masses.
12 September thru 26 November 2020
SPECIAL NOTES
Given the uncertainty of how the COVID-19 pandemic will continue to impact our lives for the upcoming months of September through November 2020, we will continue using the "Lector Pool" method of scheduling.  Given that only about one-third of our current Ministers of the Word feel comfortable at this time about returning to Mass, we will continue using only one lector for each of our three Masses.  All lectors who are comfortable proclaiming at this time, are asked to prepare to serve as "alternate lectors" just in case the assigned lector has a last-minute conflict.  When you arrive for Mass, and before taking your seat in the assembly, check in at the sacristy to make certain someone has signed in to serve as Minister of the Word for that Mass.
Each weekend indicates a "Lector Pool" with the names of 12 current lectors.  Each of these 12 lectors will receive a Monday email from me asking them to respond as to their availability (and comfort level) in serving for the scheduled upcoming weekend.  Lectors for these weekend Masses are assigned from those who respond to this email by Tuesday evening, or I begin reaching out to other lectors. Remember: Every lector who is comfortable about attending Mass at this time is asked to assume the "alternate lector role" and prepare to proclaim both the First and Second Readings, just in case you might be needed.
Currently, either Deacon Al or Deacon Scott is offering the Petitions at each of the Masses. Lectors are also not processing in or recessing out at this time, only three people are – the presider, deacon and cross bearer. Once you have signed in at the sacristy, please place the lectionary on the ambo, adjust the microphone (if necessary) and then find a place to sit.  Wearing a mask is strongly encouraged, but you may remove the mask while proclaiming. When Mass has ended, the lector is asked to return both the lectionary and the Book of the Gospels to the sacristy.
Should you have any questions, please to do not hesitate to contact me: faye@msquad.net, 414-617-5090.
UPDATE: Archbishop Jerome Listecki has extended the dispensation from the obligation to attend Sunday Mass through 6 September 2020.
God's blessings to each of you, and stay healthy!
Ministry of the Word Lector Pools
12 September thru 26 November 2020
**Download Guidelines and Alternate information
Contact: Coordinator – Faye Herrick 262-618-4312 / faye@msquad.net