Faith in Action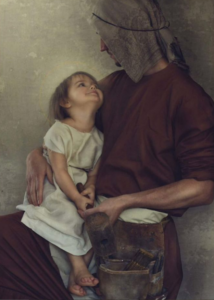 Why Joseph?
Because, even though he never speaks in the Scriptures, his role is so significant that no saint aside from Mary, his spouse, is mentioned more often in the Church today.
Yet he exists in the shadows—much like the frontline workers in our hospitals, grocery stores, post offices, and everywhere that essential personnel are keeping the needs of our daily lives met.
This quiet man, who responded to God's voice coming to him in dreams, who fulfilled the role of earthly father to Jesus, is an excellent person to ponder in these troubling days.         
Artist Kristyn Brown / thesaintsproject.org
May the following prayer reflection on Pope Francis's words about St. Joseph open our eyes and hearts to this great guide.
Prayer Reflection (5)
On the road again…Once again, Joseph promptly obeyed. So many people during the pandemic have lost their jobs, and so many others have had their life disrupted and reduced to a family bubble and masked trips to the grocery store. Joseph, too, knew disruption and uncertainty. When the danger to Jesus had passed, Joseph was told to go back to Israel with his family, and, Pope Francis tells us, he obeyed immediately. It couldn't have been easy, yet Joseph trusted that what God was asking him to do was the right thing. How can we learn patience and resolve in our own lives? Perhaps imitating Joseph is a good way to start.
PONDER:  How can I reach out to someone who has been let go? What can I offer to help them?
PRAY:  God of wonder and surprise, help me develop the patience and courage to follow your path.
This prayer reflection can also be found in the back of the Gathering Hall under our St. Joseph stained glass window which is next to the coat room.