School Times:
Full Day K3 – 8th Grade, 8:15 am – 3:15 pm
Half -Day AM K3 & K4, 8:15 am – 11:35 am
Extended Care
Extended care is on-site.
Morning care: 6:30 am – 8:00 am.
Supervised playground time: 8:00 am – 8:15 am
Afternoon care: 3:15 pm – 6:00 pm.
Extended afternoons are available for K3 & K4 Half-Day students from 11:35 am – 3:15 pm for a flat fee of $25 per day.
Early Childhood Programs
We offer an exceptional Early Childhood Program for grades K3, K4 and K5. We offer flexible schedules to fit your personal needs.
K3 – A.M. Half-Day, choose from 3 – 5 days per week or Full-Day, 5 days per week
K4 – A.M. Half-Day, 5 days per week or Full-Day, 5 days per week
K5 – Full-Day, 5 days per week

Tuition Support
St. Joseph Parish School offers many options to make tuition affordable.
We are part of the Wisconsin Parental School Choice Program! Enrollment for the 2021-2022 school year runs Feb. 1st – Apr. 15th. New students enrolling in any grade and current students entering K4, K5 or 1st grade can apply if they meet the income requirements. Wisconsin School Choice
Scholarships are available to those who qualify for part or all of their tuition.
Multiple Student – Family discount is available and increases with each additional child enrolled within a family.
The Wisconsin Private School Tuition Tax Credit allows parents to deduct up to $4,000.00 per student in grades K5-8.
A tuition payment plan is available to make 10 monthly payments from September through May.
Busing
Busing is available to students through the Grafton School District for families who reside in the district boundaries.
Uniforms
K3 – 8th Grade students are to be in uniform during the day. Uniforms can be purchased at several major retailers. The school also offers resale of used uniforms in August as inventory permits. Please see our uniform page in the school handbook for more details.
http://Parent-Student Handbook
Hot Lunch
Hot lunch is available to all students who choose to purchase. We follow the Grafton District school lunch menu.
Catholic Schools Misconceptions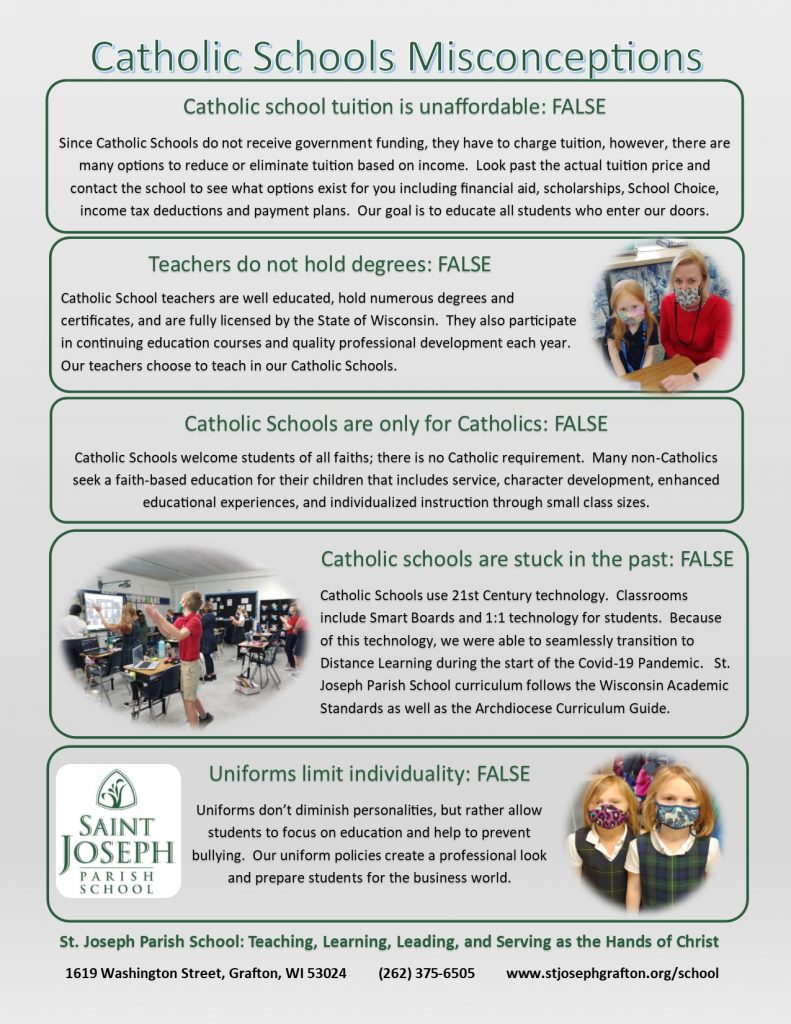 Contact Information
St. Joseph Parish School
1619 Washington Street
Grafton, WI 53024

(262)375-6505, Ext 0
schooloffice@stjosephgrafton.org
On-line Contact Form