St. Joseph Parish Mission Statement
The Hands of Christ … Open To All                           Las Manos de Cristo … Abiertas a Todos

 Click here to download the 2018 Time and Talent Brochure.
Parish Office Hours
Summer Hours (June 1 – August 31)
Monday-Thursday from 8:00 a.m. to 4:30 p.m.
and Friday from 8:00 a.m. to Noon

Join us on the journey….and see how belonging to a community of faith in Jesus Christ,
rooted in the Catholic tradition, can make a difference in your life – and in the lives of others!
What We Offer:
Vibrant weekly worship centered in the Eucharist
Engaging faith formation and education for children, youth, and adults
Mission and outreach to those in need in our community…and beyond
A welcoming and hospitable community of faith and friendship in Jesus Christ
Learn more About our parish…
Pastoral Ponderings . . .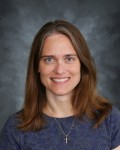 Sheri Hanson, Director of Child & Middle Youth Ministry
In today's Gospel (MK 4:26-34), Jesus says that the kingdom of God is like a man who scatters seeds and waits for the seeds to grow. The kingdom of God also is like the mustard seed, which though so small, grows into a large plant that provides shade for birds. These parables inspire our Child and Youth Ministry programs. We hope and pray that we are planting seeds that will help our children grow in faith and love of Jesus Christ.
This week we will share our faith at Vacation Bible School. We will sing, play games, make crafts, reflect on bible stories, and eat together. Through these activities, we hope to grow in faith and community. The bonds of this faith community last long after the week ends. Friendships develop among children and youth from different grades and schools. Campers return each year to see their favorite youth leaders. One adult volunteer loves hearing children throughout the year excitedly exclaiming: that is the story lady from VBS!
This year's theme centers on the verse "When you pass through the waters, I will be with you (Isaiah 43:2)." We will reflect on how God is present with us and invites us to spend time with him. We will read about Jesus calling the disciples to follow him (MT 4:18-25), encouraging Martha to spend time with him (LK 10:38-42), inviting Zacchaeus to eat with him (LK 19:1-10), and promising to be present to us in the Holy Eucharist (LK 22:14-20) and every day (MT 28:16-20).
Jesus also calls us to serve each other by being present to one another. During Vacation Bible School, our adult and youth volunteers respond to Jesus' call by engaging campers in child-centered faith building activities. Each child hears that God loves them and is present with them; they also learn that we love them and are here with them.
Please pray that the seeds we are planting will help our campers—and youth and adult leaders—to grow in faith.
Read more about what is happening in our parish in this week's Bulletin.