St. Joseph Parish Mission Statement
The Hands of Christ … Open To All                           Las Manos de Cristo … Abiertas a Todos
Video Greeting from Brenda Cline for the Ascension of the Lord
May 16-17, 2020
Dear St. Joseph Parish Family,
Only two more weeks until we can be together again!
Our leadership team – staff, deacons, priests trustees and council chairs have been working hard on our Catholic Comeback plan, in accord with directives set forth by Archbishop Listecki. We will soon be able to share with you the customized plan for St. Joseph Parish, which will serve to guide our worship and operations as we navigate the phases of Wisconsin's Badger Bounceback.
I ask for your prayers as we prepare to open our doors on the birthday of the church, Pentecost weekend, May 30-31. I pray that we will truly experience a "re-birth" of our faith and community as we once again gather to celebrate the Eucharist!
I also ask for your personal discernment (prayerful decision-making) to make the best choice for you and your family as to the right time for your return to public worship. We will do our best to provide as safe an environment as possible, and yet also recognize that as a society we are still dealing with COVID-19. To that end, Archbishop Listecki has extended the dispensation until at least July 5th, which suspends your obligation to attend mass during this time.
Please stay tuned to your email and postal mail for more details as they unfold. I can't wait to see you again – either on May 30-31, or on the date you best discern your return! Thank you as always for your continued support of our parish, which truly keeps our mission and ministry going even during a global pandemic. I am grateful!
Sincerely yours in Christ,
Brenda Cline
Parish Director

Parish Office Hours – September through May
Sunday: 9:00 a.m. – Noon
Saturday: 5:00 p.m. – 5:15 p.m.
Monday-Thursday:  8:00 a.m. to 4:30 p.m.
Friday: 8:00 a.m. to Noon

Join us on the journey….and see how belonging to a community of faith in Jesus Christ,
rooted in the Catholic tradition, can make a difference in your life – and in the lives of others!
What We Offer:
Vibrant weekly worship centered in the Eucharist
Engaging faith formation and education for children, youth, and adults
Mission and outreach to those in need in our community…and beyond
A welcoming and hospitable community of faith and friendship in Jesus Christ
Learn more About our parish…
Pastoral Ponderings . . .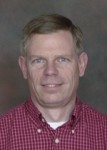 Jay Frymark, Director of Administration
"Tomorrow will be different." I'm told this quote is from Fr. Mike Barrett, our supervising priest and former pastor. How true this is!
Nothing will be the same "normal" that we saw prior to March 2020. It was our "normal" to pack people as tightly together as we could in public transit, sporting events, entertainment venues, schools and places of worship, to name a few. And while restrictions are easing, will we ever get back to that model? Maybe a universal vaccination will allow it but that may take some time.
Now think about the economic impact of those industries that rely on packing many people together as is tolerable. Take airlines for instance. For years, more seats have been installed in the same space, allowing more revenue per flight. If you block out a third of the seats, will you increase the fares by 150% to have the same revenue? What about downstream business and pleasure destinations if people choose not to fly as much?
Our communal worship will resume next weekend with a number of required and recommended changes. You will see masked and gloved ushers greeting you at the only entrance. Directions will be provided on where and how to sit depending on whether you live in the same household. Distribution of Communion will be different than we are used to. We will have a cantor but no choir, no hymnals and the list goes on.
So we will live with this "new normal" for a while and see how it goes. If COVID-19 rears its ugly head again, we will likely pull back. If we can control it, maybe things will look somewhat like they used to. No matter what, tomorrow will certainly be different.

➤➤➤ Read more about what is happening in our parish in this week's bulletin.