St. Joseph Parish Mission Statement
The Hands of Christ … Open To All                           Las Manos de Cristo … Abiertas a Todos
Parish Office Hours
Monday-Friday from 8:00 a.m. to 4:30 p.m.
and Sunday from 8:00 a.m. to Noon

Join us on the journey….and see how belonging to a community of faith in Jesus Christ,
rooted in the Catholic tradition, can make a difference in your life – and in the lives of others!
What We Offer:
Vibrant weekly worship centered in the Eucharist
Engaging faith formation and education for children, youth, and adults
Mission and outreach to those in need in our community…and beyond
A welcoming and hospitable community of faith and friendship in Jesus Christ
Learn more About our parish…
Pastoral Ponderings . . .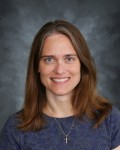 Sheri Hanson, Director of Child & Middle Youth Ministry
I am often asked why I belong to the Church – by youth, family members, people sitting next to me on the airplane. The crowd in today's Gospel is the perfect example of why I belong to the Church.
When the blind man is calling out to Jesus, Jesus tells the crowd to "call him (Mark 10:49)." The crowd then tells the blind man: "Take courage; get up, Jesus is calling you (Mark 10:49)." Sure, some people in the crowd first rebuked the blind man for bothering Jesus, but once it was clear that Jesus was calling him, they encouraged him to respond. For me, this crowd exemplifies the Church, encouraging me to bravely respond to Jesus' call.
Following Jesus can be tough, especially when He asks me to do difficult tasks like love my enemies, forgive seven times seventy times and take up the cross. Thus, I need a supportive faith community to embolden me to follow Him. I need a crowd to tell me that He is calling me.
After Jesus ascended into Heaven, the Apostles were often afraid to share the Good News, but they prayed for strength and helped each other. Dorothy Day depended on prayer and her friends to live and work in solidarity with the poor. Like the blind man, these amazing Christians had a crowd to embolden them to follow Jesus.
St. Joseph Parish is my crowd. When we mourn, I witness parishioners praying for one another, providing meals, and listening to heartfelt stories. When we are sick, parishioners pray for each other at Mass, bring communion to bedsides, and check in on each other. When we prepare to serve on mission trips, we have commissioning Masses, write prayer cards and offer financial support. When we celebrate 50 years of Marriage, Confirmation, or Baptisms, we gather together in prayer and celebration. In each of these acts, we remind each other to listen to Jesus, even if we are worried about what happens next — after the commissioning Mass, the funeral, or Confirmation.
I invite you to reflect on the role of your crowd, your parish, in fortifying you to respond to Jesus.
Read more about what is happening in our parish in this week's Bulletin.