St. Joseph Parish Mission Statement
The Hands of Christ … Open To All                           Las Manos de Cristo … Abiertas a Todos

Click here to listen to the Christmas Eve Choir Concert.
Parish Office Hours
Monday – Friday 8:00 a.m. – 4:30 p.m. and Sundays 9:00 a.m. – Noon

Join us on the journey….and see how belonging to a community of faith in Jesus Christ,
rooted in the Catholic tradition, can make a difference in your life – and in the lives of others!
What We Offer:
Vibrant weekly worship centered in the Eucharist
Engaging faith formation and education for children, youth, and adults
Mission and outreach to those in need in our community…and beyond
A welcoming and hospitable community of faith and friendship in Jesus Christ
Learn more About our parish…
Pastoral Ponderings . . .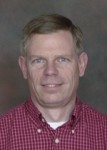 Jay Frymark, Director of Administration
We're just past the halfway mark of our fiscal year that started July 1, 2017. Financially, we're still a little behind on parish giving and haven't spent as much as budgeted so we're on target to meet our bottom line.
Our budget process for next fiscal year is just starting. We held our annual budget retreat in December and had the privilege of having our Pastoral Council Chair and one of our Trustees join the staff. During the retreat we examined and edited our Guiding Principles and Broad Assumptions in light of our parish Mission Statement.
Now we're in the process of disseminating next year's budget requests to the staff and committee chairs that have a budget and asking for their input. They will respond with a preliminary budget that will be added together for our overall budget. Once we see where that puts us, we will go back to each department and propose changes.
We've made several improvements to our facilities this year in the parish and school ceilings and lighting. We have more work to do in the elementary school bathrooms. Other school "freshening" is also in the works, especially painting.
Several major expenses will be a challenge for 2018-19. We have sections of our roofs that need full replacement. One of the church boilers needs to be rebuilt. The parking lot needs crack filling and sealing. Technology upgrades are a continual need. Our phone system is at the end of its life.
The operating expenses will also continue to climb. Wages, benefits, insurance and the archdiocesan assessment are all expected to increase. Utility costs, hopefully, will remain stable with the more efficient lighting systems. We also entered into a contract with a gas supplier that will shave our heating costs.
I give you this synopsis so that you are aware that everything we want to accomplish may take some time or be prioritized. It is your generosity that makes St. Joseph run and we thank you for your trust and support of the parish and school.
             Read more about what is happening in our parish in this week's Bulletin.