St. Joseph Parish Mission Statement
The Hands of Christ … Open To All                           Las Manos de Cristo … Abiertas a Todos

 Click here to download the 2018 Time and Talent Brochure.
Parish Office Hours
Summer Hours (June 1 – August 31)
Monday-Thursday from 8:00 a.m. to 4:30 p.m.
and Friday from 8:00 a.m. to Noon

Join us on the journey….and see how belonging to a community of faith in Jesus Christ,
rooted in the Catholic tradition, can make a difference in your life – and in the lives of others!
What We Offer:
Vibrant weekly worship centered in the Eucharist
Engaging faith formation and education for children, youth, and adults
Mission and outreach to those in need in our community…and beyond
A welcoming and hospitable community of faith and friendship in Jesus Christ
Learn more About our parish…
Pastoral Ponderings . . .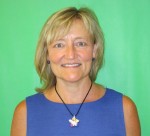 Lisa Delorit, Director of Stewardship & Communication
September always marks the beginning of the school year, and also a kind of unofficial kick off to a new season for many of our parish ministries. Our Christian Formation classes and sacramental preparations will soon start, the Parish Choir will again regularly rehearse and sing during Mass, the committees/ministries that take a month or two off will resume and even our events for next Spring and Summer are being planned! The good work we do in the name of God proceeds and we expect great things!! If you are interested in participating in any area, simply contact the Stewardship Office—we're here to help.
Our parish Finance Council and Stewardship Committee have remained busy during these summer months. Taking note of shifting demographics and a decline in contributions, we remain sincerely grateful for the faithful and steadfast stewardship of so many. Whether your contributions are shared financial resources and/or the gifts of your talent and prayer, our hearts are full!
These two administrative ministries have focused their attention on sustaining and improving our operational budget, and more importantly meeting the needs of our parish community, which includes all parishioners, visitors and every person we serve in God's name.
In response, this fall a team of dedicated parishioners will review and make recommendations to enhance our parish registration and welcoming process. Additionally, the welcoming and formation of the newly married and young families has also been recognized as a priority. These areas of focus along with continued support of all other ministries will receive our attention.
In looking at opportunities to improve our operational budget, which supports every ministry in the parish, we will, in support of our mission, execute a plan of action rooted in prayer – together. In the next few weeks, you will begin to receive communication and in the meantime, please join us for Mass.
In the words of St. Augustine,
"We become what we receive."
Read more about what is happening in our parish in this week's Bulletin.