St. Joseph Parish Mission Statement
The Hands of Christ … Open To All                           Las Manos de Cristo … Abiertas a Todos

2018 Catholic Stewardship Appeal
Parish Office Hours
Monday – Friday 8:00 a.m. – 4:30 p.m. and Sundays 9:00 a.m. – Noon

Join us on the journey….and see how belonging to a community of faith in Jesus Christ,
rooted in the Catholic tradition, can make a difference in your life – and in the lives of others!
What We Offer:
Vibrant weekly worship centered in the Eucharist
Engaging faith formation and education for children, youth, and adults
Mission and outreach to those in need in our community…and beyond
A welcoming and hospitable community of faith and friendship in Jesus Christ
Learn more About our parish…
Pastoral Ponderings . . .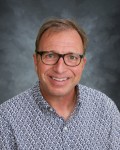 Ken Stanczyk, Director of Adult Ministry
Best Lent Ever
This year, Adult Ministry is offering a consideration for each of the three pillars of Lent:
Prayer:  The Lenten resource table in the Gathering Hall contains materials for your spiritual growth during Lent. Of particular note is Daily Reflections for Lent, a resource from Liturgical Press which provides a scripture quote from one of the readings for the day, along with a short reflection, meditation, and prayer.
Fasting:  One slogan from Dynamic Catholic's Best Lent Ever program is "Don't give up chocolate for Lent this year!" Instead, Matthew Kelly, founder of Dynamic Catholic, encourages us to do something incredible, different, and creative. Best Lent Ever is a free program which sends you an email every day during Lent containing a short video and other inspirational material. This year, the program will take us through Mr. Kelly's book, Perfectly Yourself , chapter by chapter.
Visit DynamicCatholic.com/BestLentEver to register and learn more.
Perfectly Yourself  is the book which was handed out on the Feast of Epiphany. Additional copies are available on the Lenten Resource Table in the Gathering Hall. St. Joseph Parish will be holding book discussion groups during Lent on this book and Lenten video series. Further information can be found on page 5 of the bulletin.
Almsgiving:  The recipient of our parish almsgiving this Lent is Catholic Relief Services, which is the official international agency of the Catholic Church in the United States. Catholic Relief Services (CRS) provides direct aid to the poor and involves people in their own development, helping them to realize their potential. The Human Concerns Committee has arranged to have speakers come to St. Joseph on two Wednesdays during Lent to provide more information about CRS and its many ministries. One already took place following the Ash Wednesday Mass and the second will take place following the 5:00 p.m. Wednesday Mass and Stations of the Cross on March 7.
I hope you are able to participate in all three of these Adult Ministry opportunities. Have a blessed Lenten season!
             Read more about what is happening in our parish in this week's Bulletin.