St. Joseph Parish Mission Statement
The Hands of Christ … Open To All                           Las Manos de Cristo … Abiertas a Todos

The next meeting of the St. Joseph Parish Pastoral Council is scheduled for this Tuesday, September 25th,
at 6:30 p.m. in lower level Conference Room A. All are welcome!

 Click here to download the 2018 Time and Talent Brochure.
Parish Office Hours
Monday-Friday from 8:00 a.m. to 4:30 p.m.
and Sunday from 8:00 a.m. to Noon

Join us on the journey….and see how belonging to a community of faith in Jesus Christ,
rooted in the Catholic tradition, can make a difference in your life – and in the lives of others!
What We Offer:
Vibrant weekly worship centered in the Eucharist
Engaging faith formation and education for children, youth, and adults
Mission and outreach to those in need in our community…and beyond
A welcoming and hospitable community of faith and friendship in Jesus Christ
Learn more About our parish…
Pastoral Ponderings . . .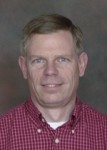 Jay Frymark, Director of Administration
In my May 20, 2018 Pastoral Pondering I informed you that the Finance Council and Stewardship Committee had joined forces to look at our parish's financial situation and donor trends. (Breaking news: we've been falling short of budgeted revenue for several years now.) Our most recent meeting was on Tuesday, September 11, where the team identified the steps to "Do the best for the Total Parish Community."
This plan includes review of the past three years of parishioner giving as well as our other revenue sources. From there we added known and estimated capital expenditures for the next 10 years or so. From that exercise, several sub teams are tasked with identifying the total amount needed to continue all of our parish ministries and the message how this allows St. Joseph to be the "Hands of Christ … Open to All."
In preparation for these meetings, the team also did formation around what stewardship really means. Soon you will be seeing cards that reflect in prayer that all we have is a gift from God and it is to be re-gifted to make stewardship a way of life in our parish.
The other facet of our upcoming stewardship message is to join in intentional prayer as to what stewardship looks like to each of us personally. You will be invited to reflect on 10 ways to do this or make up your own. It is only after we understand and embrace a personal commitment to stewardship that we can begin to live it.
Each day, we make decisions that are based on our personal priorities. Do I want to spend $100 on a dinner out? Do I need (or simply want) new clothing? If that $100 were invested in any of our parish ministries, how many lives can be touched? Will the homeless be better fed, warmer and safer? Will our young adults experience God's love and care for each other through mission work or caring for the environment? Will our school produce the next high school valedictorian? Is our facility welcoming and inviting?
Our parish stewardship impacts everything we do. Your service, prayers and financial support make every ministry important and valuable. We're looking forward to the success of all we do here at St. Joseph.
Read more about what is happening in our parish in this week's Bulletin.