St. Joseph Parish Mission Statement
The Hands of Christ … Open To All                           Las Manos de Cristo … Abiertas a Todos
Parish Office Hours
Monday-Friday from 8:00 a.m. to 4:30 p.m.
and Sunday from 8:00 a.m. to Noon

Join us on the journey….and see how belonging to a community of faith in Jesus Christ,
rooted in the Catholic tradition, can make a difference in your life – and in the lives of others!
What We Offer:
Vibrant weekly worship centered in the Eucharist
Engaging faith formation and education for children, youth, and adults
Mission and outreach to those in need in our community…and beyond
A welcoming and hospitable community of faith and friendship in Jesus Christ
Learn more About our parish…
Pastoral Ponderings . . .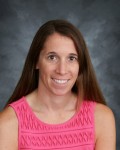 Amanda Matthews, School Administrator
Catholic Schools Week
January 26th – February 1st St. Joseph Parish School celebrated Catholic Schools Week. While we only had 1½ days of school that week due to inclement weather, we did have a lot of fun and a very successful Open House on Tuesday evening. During the week the students had a special guest reader!
I dressed up as a T-Rex and read books to our students in order to promote our book fair and encourage reading! On Tuesday we held our annual Variety Show to show off the many talents of our students and staff including piano solos, dance numbers and a bucket drumming routine by our teachers.
At our Open House, families had a great time participating in the school scavenger hunt, eating chili, jumping in the bounce house, and exploring the Scholastic Book Fair. We also had many new families take tours led by three of our SJPS Alumni. We ended our week with our annual 8th grade vs. parents and teachers volleyball game where the whole school came out to watch. This year the 8th grade beat the parents two games to one.
We love St. Joseph Parish School and had a great time celebrating Catholic Schools Week. Schedule a tour today to see all of the other amazing things that St. Joseph Parish School has to offer!
Phone number: 262-375-6505
Email: schooloffice@stjosephgrafton.org
Read more about what is happening in our parish in this week's Bulletin.