St. Joseph Parish Mission Statement
The Hands of Christ … Open To All                           Las Manos de Cristo … Abiertas a Todos
Parish Office Summer Hours (June, July, August)
Monday-Thursday from 8:00 a.m. to 4:30 p.m.
Friday: Closed

Join us on the journey….and see how belonging to a community of faith in Jesus Christ,
rooted in the Catholic tradition, can make a difference in your life – and in the lives of others!
What We Offer:
Vibrant weekly worship centered in the Eucharist
Engaging faith formation and education for children, youth, and adults
Mission and outreach to those in need in our community…and beyond
A welcoming and hospitable community of faith and friendship in Jesus Christ
Learn more About our parish…
Pastoral Ponderings . . .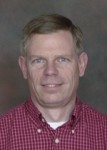 Jay Frymark, Director of Administration
As the final department and ministry budgets were shared with each ministry leader, some were surprised that they had less to work with than anticipated. Brenda and I made the rounds not to hear appeals but to explain that the parish has taken a serious look at our financial resources, both giving and expenditures.
Some challenged us to share our "five year plan," which is common in most for-profit businesses and quite common for nonprofit organizations as well. Throughout my career, I've seen plenty of five year plans that are usually under review each year as new data and trends become available.
Rather than mapping out five years for St. Joseph, we put our emphasis on the next two to three. No one enjoys going through budget season only to find out there is less to work with. With that in mind, we made larger than usual adjustments for next fiscal year that begins July 1. This will set the stage for next year and the year or two following.
So what is the plan?
♦ Share our story of educating children for 131 years (School Marketing Committee).
⇒ School marketing received additional attention this current school year and will continue next year. With a student enrollment budget of 110, we believe that we are poised to exceed that next school year.
⇒ Take full advantage of the Wisconsin School Choice program that allows children free education here based on family size and income. Choice participation was one student in 2017-18, three this year and eight enrolled for next year. Once a student qualifies for Choice, they remain eligible throughout their education here.
♦ Add clarity to our capital needs and prioritize the list.
⇒ Prioritizing our capital needs began over a year ago and several dedicated volunteers are taking past and present lists and obtaining updated costs. This will allow us to plan for upcoming needed facility upgrades.
♦ Increased concentration on membership (Stewardship Committee) and finances (Finance Council).
Your ongoing stewardship – endless prayer, shared treasure, and nurtured talents support every ministry of St. Joseph Parish. We thank you for all you do each day.
Read more about what is happening in our parish in this week's Bulletin.