St. Joseph Parish Mission Statement
The Hands of Christ … Open To All                           Las Manos de Cristo … Abiertas a Todos

 The next meeting of the St. Joseph Parish Pastoral Council is scheduled for
this Tuesday, April 24th at 6:30 p.m. in lower level Conference Room A.
All are welcome!
Click here to download the 2018 Time and Talent Brochure.
2018 Catholic Stewardship Appeal
Parish Office Hours
Monday – Friday 8:00 a.m. – 4:30 p.m. and Sundays 9:00 a.m. – Noon

Join us on the journey….and see how belonging to a community of faith in Jesus Christ,
rooted in the Catholic tradition, can make a difference in your life – and in the lives of others!
What We Offer:
Vibrant weekly worship centered in the Eucharist
Engaging faith formation and education for children, youth, and adults
Mission and outreach to those in need in our community…and beyond
A welcoming and hospitable community of faith and friendship in Jesus Christ
Learn more About our parish…
Pastoral Ponderings . . .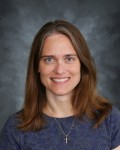 Sheri Hanson, Director of Child & Middle Youth Ministry
The Easter season is a joyful time of the year with many sacramental celebrations. Last weekend, we celebrated Confirmation and this weekend 44 children will receive their First Eucharist at all Masses. In doing, so they become more fully connected to Christ and to all of us in the Church.
In the Gospel reading today, Jesus speaks about being the Good Shepherd who gathers His sheep into one flock. Although He calls us each individually, He does not call us to serve Him in isolation, but to do so as part of a larger community, or a flock, if you will. We call this community the Church. The Eucharist in particular is a sign of our unity. We receive the Body of Christ and, as a community, become the Body of Christ called to serve our Lord. As one, we profess our faith and worship God. This is not a meal we eat in a rush to get to soccer or a snack we eat sneakily in our cars. This is a meal in which we linger in community. To this meal we invite and welcome our First Communicants.
The parents of the First Communicants shared their reasons for wanting their children to receive their First Eucharist. Most parents wanted their children to belong more fully to our faith community. When speaking about the Church, they spoke of tradition, connection to family and friends, seeking prayerful support, and having role models. The parents spoke about finding and connecting with Jesus through this community – through us.
Thus, First Eucharist reminds us of our responsibility toward the First Communicants and to each other. During times of joy and sorrow, we pray, serve and journey closer to God together. Our recent St. Joseph Feast Day celebration, our sacramental celebrations, funerals, bible studies, service projects, mission trips and, especially our Masses, are great examples of our unity. As we celebrate the First Eucharist of these children this weekend, let us reflect on how we create and foster unity in all our ministries.
As we more fully welcome the First Communicants into
our faith community, please join us for hospitality
following each Mass this weekend.
           Read more about what is happening in our parish in this week's Bulletin.