St. Joseph Parish Mission Statement
The Hands of Christ … Open To All                           Las Manos de Cristo … Abiertas a Todos

Parish Office Hours – September through May
Sunday: 9:00 a.m. – Noon
Saturday: 5:00 p.m. – 5:15 p.m.
Monday-Thursday:  8:00 a.m. to 4:30 p.m.
Friday: 8:00 a.m. to Noon

Join us on the journey….and see how belonging to a community of faith in Jesus Christ,
rooted in the Catholic tradition, can make a difference in your life – and in the lives of others!
What We Offer:
Vibrant weekly worship centered in the Eucharist
Engaging faith formation and education for children, youth, and adults
Mission and outreach to those in need in our community…and beyond
A welcoming and hospitable community of faith and friendship in Jesus Christ
Learn more About our parish…
Pastoral Ponderings . . .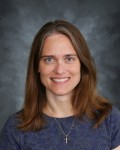 Sheri Hanson, Director of Child & Middle Youth Ministry
As we celebrate Jesus' baptism, which marks the beginning of His public ministry, I reflect on the difference between private and public ministry. What we do in front of other people would be our public ministry, but what we do when no one else is around would be our private ministry. An example of a public ministry is singing in the choir or serving on a Workcamp mission trip. A private ministry may be how we serve one another daily or supporting a mission trip behind the scenes through donations of money or time. Our hope is that both our public and private actions reflect our faith in God.
This fall, I took a class at Marquette on Judaism in which we discussed how having an appropriate fear of God helps us serve Him in both private and public domains. This fear is often called awe and reverence; Christians consider it to be a gift of the Holy Spirit. We read a story in which Rabbi Johanan blessed his followers on his deathbed by saying, "May it be God's will that you fear Him as much as you fear man." The followers were a little disappointed in this blessing, but the rabbi explained that he hoped that both their public and private actions would be worthy of God. He worried that people often acted one way in front of others and a different way when alone. He wanted his disciples to be aware of God always. Thus, Rabbi Johanan considered fear of God to be a religious goal.
Creating the right habits, through the study and practice of the commandments, for example, helps us achieve this goal. This is why experiences like Workcamp are so important for our youth. These mission experiences help our youth develop a mindset of service. For this reason, your financial and prayerful support of our Workcampers is valuable beyond one week of the summer. You are helping to foster the development of disciples who serve the poor and needy. You may give in private, but the fruit of your giving is evident for years to come. Your support reflects how you value not only serving the poor, but also teaching our youth the importance of serving in God's name. Thank you for helping our youth to answer their baptismal call to serve in imitation of Christ. And to quote, Rabbi Johanan, May it be God's will that you fear Him as much as you fear man.

➤➤➤ Read more about what is happening in our parish in this week's bulletin.