St. Joseph Parish Mission Statement
The Hands of Christ … Open To All                           Las Manos de Cristo … Abiertas a Todos

 Click here to download the 2018 Time and Talent Brochure.
Parish Office Hours
Summer Hours (June 1 – August 31)
Monday-Thursday from 8:00 a.m. to 4:30 p.m.
and Friday from 8:00 a.m. to Noon

Join us on the journey….and see how belonging to a community of faith in Jesus Christ,
rooted in the Catholic tradition, can make a difference in your life – and in the lives of others!
What We Offer:
Vibrant weekly worship centered in the Eucharist
Engaging faith formation and education for children, youth, and adults
Mission and outreach to those in need in our community…and beyond
A welcoming and hospitable community of faith and friendship in Jesus Christ
Learn more About our parish…
Pastoral Ponderings . . .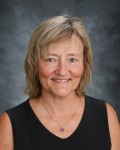 Lisa Delorit, Director of Stewardship & Communication
June 30 marked the end of the St. Joseph Parish 2017-18 fiscal year. We ask, what have we done to make our mission, "The Hands of Christ…Open to All" come alive?
Did we extend our hands in our church, our community and our world?
Did we scoot over for visitors, welcome new parishioners, and embrace the newly baptized and confirmed? Did we welcome those not baptized, not confirmed and those unsure?
Did we embrace and boldly proclaim the Word of God? Did we celebrate and, perhaps, grieve with our parish family? And did we bring the face of God to others?
Did we support our outreach, community builders, education, liturgies, and the operation of our parish which funds and sustains all ministries?
We did. Our liturgies and sacraments warmly welcome, proclaim and send us forth in God's name. Our generous parish outreach continues to be sincere and widespread. The huge project of our lighting and ceiling was accomplished providing enhanced light, sound and prudent use of energy. Due to your generosity and that of our community, the Parish Fish Fry claimed its biggest year with proceeds exceeding $50,000. Your contributions supported two Eagle Scout projects and our Workcampers! And there is much more.
If you've been following the bulletin, we have noted fewer contributing parishioners, resulting in a budget shortfall. Despite these changes, many of you have enhanced your giving for which we extend our sincere thanks.
We are truly blessed. Ahead of the Annual Report, we offer our gratitude for the steady and deepening stewardship of so many. Through your generosity we are succeeding in our mission as The Hands of Christ Open to All. We pray for your financial and spiritual support as we build the kingdom of God here and everywhere.
Looking forward, we have much work to do!
Here is a glimpse into the 2018-19 fiscal year:
• Build on our understanding of community demographics as it relates to growth in our parish and ministries.
• Expand ministry collaboration to achieve a closer connection with our parish and community.
• Implement time tested and contemporary pathways for financial support of our parish mission.
• Invest in the latest technology to improve communications, enhance safety and security and provide a framework for the future by way of missionfocused methods.
• Envision and prepare long range financial and ministry goals.
• Embark on our 170th year with vigor.
We pray… Disturb us, Lord, when we are too well pleased with ourselves; when our dreams have come true because we have dreamed too little; when we arrived safely because we have sailed too close to shore. Disturb us, Lord, when with the abundance of the things we possess, we have lost our thirst for the water of life. Stir us, Lord, to dare more boldly, to venture on wider seas, where storms will show your mastery; where losing sight of land, we shall find the stars. We ask you to push back the horizons of our hopes and to push us into the future in strength, courage, hope and love. Amen.
Read more about what is happening in our parish in this week's Bulletin.