St. Joseph Parish Mission Statement
The Hands of Christ … Open To All                           Las Manos de Cristo … Abiertas a Todos
Wednesday, March 25, 2020
 Dear Friends,
---
As we celebrate the Feast of the Annunciation of the Lord, we remember Mary's faith filled "yes" even amidst her initial fear and confusion. With courage and humility, we ask for Mary's intercession today in a special way…Mary, Mother of God, Pray for Us!
---
You no doubt already heard on the news that Archbishop Listecki had to make the difficult decision to suspend the public liturgies of Holy Week and Easter. This is consistent with our current practice of no public masses, prayer, meetings, or events, which is to be continued indefinitely until we see this crisis through. This is also in accord with Governor Evers' declaration of a "Safer at Home" order for the next 30 days.
---
Along with this news, our celebrations of RCIA, First Communion, and Confirmation are also suspended and will be rescheduled at a later date, under guidance from the Archdiocese. Likewise, the Love One Another capital campaign has been suspended; I am grateful for our leadership team's hard work on this campaign, and for all those who made early pledges! We will be in touch with you, but please consider this campaign cancelled for now.
---
We especially pray with our families who have lost a loved one during this time of crisis, and whose funerals are delayed. Delayed funeral celebrations are recommended by the Archbishop at this time. We will work with each family experiencing the death of a loved one in order to provide support and plan a funeral/burial in accordance with their needs and wishes, while also adhering to the strict and necessary laws for gatherings during this time.
---
Even though our church doors must remain locked for the health and safety of all, please know that the employees of St. Joseph Parish continue to work (socially distanced and/or remote!) to bring our mission to life in new ways as best as we can. I am so proud of our leadership for their adaptability and hard work! We are also connecting regularly with Fr. Steve, Fr. Mike, Deacon Al, and Deacon Scott, along with our Trustees and Pastoral/Finance Council Chairs on all matters related to this crisis.
---
These emails are our best form of communication with you – so thank you for taking the time to read them. In the days ahead, we will send you information on how you can engage virtually in the rhythm and prayers of Holy Week and Easter. We will offer links to St. Joseph Parish and the Archdiocese of Milwaukee, as well as share other resources and materials as they become available.
---
Thank you for your ongoing support and prayers during these unprecedented times!
---
With love and many prayers,
Parish Director

Parish Office Hours – September through May
Sunday: 9:00 a.m. – Noon
Saturday: 5:00 p.m. – 5:15 p.m.
Monday-Thursday:  8:00 a.m. to 4:30 p.m.
Friday: 8:00 a.m. to Noon

Join us on the journey….and see how belonging to a community of faith in Jesus Christ,
rooted in the Catholic tradition, can make a difference in your life – and in the lives of others!
What We Offer:
Vibrant weekly worship centered in the Eucharist
Engaging faith formation and education for children, youth, and adults
Mission and outreach to those in need in our community…and beyond
A welcoming and hospitable community of faith and friendship in Jesus Christ
Learn more About our parish…
Pastoral Ponderings . . .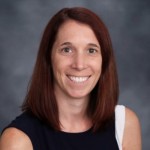 Amanda Matthews, School Administrator
Distant, But Still Learning
If you look closely at the pictures below you can see St. Joseph Parish School's Distance Learning Plan in action. Although this does not seem to be the norm throughout the country, St. Joseph Parish School Teachers are engaging their students daily through face-to-face instruction via Google Meet sessions. If you look closely at the computer screens you can see the faces of our dedicated teachers who have been working tirelessly to provide their students with virtual instruction in order to keep them learning throughout this time.
Through the use of Google Meet, I am able to observe this instruction from my home computer and share in the learning experience of our students. Students are also able to see each other and learn together, which has been a blessing in a time of physical distancing. Throughout the day I have witnessed daily prayer, religion, math, science, social studies, reading, language, Spanish, and mindfulness lessons. I even observed a debate session amongst students during an 8th-grade ELA class. Our specialist teachers are also providing ongoing project-based learning activities in Art, Music, and Physical Education during this time. In addition our Reading Support Teacher is available to students who need it, all through face-to-face virtual meetings.
This has all been made possible through the generosity of a donor about 6 years ago that kick started our technology revolution which allowed us not only to keep up with area schools, but to handle this unforeseen set of circumstances. Through the guidance and support of our volunteer technology committee, the ongoing financial support of the Parish, and money raised through our annual auction, we were able to provide our students with one-to-one technology in the form of iPads and Chromebooks which they were allowed to take home to use during this time. In a time of uncertainty, I am certain of one thing, the learning continues at St. Joseph Parish School!

➤➤➤ Read more about what is happening in our parish in this week's bulletin.