St. Joseph Parish Mission Statement
The Hands of Christ … Open To All                           Las Manos de Cristo … Abiertas a Todos

 Click here to download the 2018 Time and Talent Brochure.
Parish Office Hours
Monday – Friday 8:00 a.m. – 4:30 p.m. and Sundays 9:00 a.m. – Noon
The Parish Office will be closed on May 27 and May 28.

Join us on the journey….and see how belonging to a community of faith in Jesus Christ,
rooted in the Catholic tradition, can make a difference in your life – and in the lives of others!
What We Offer:
Vibrant weekly worship centered in the Eucharist
Engaging faith formation and education for children, youth, and adults
Mission and outreach to those in need in our community…and beyond
A welcoming and hospitable community of faith and friendship in Jesus Christ
Learn more About our parish…
Pastoral Ponderings . . .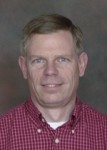 Jay Frymark, Director of Administration
Recently the Finance Council and Stewardship Committee held a joint meeting to examine the trends and understand what is happening. Trends in giving have raised questions among your parish leaders.
It seems like we keep missing our budget and it seems that there is a larger gap in late spring and early summer. This year is no different. As of April 30, 2018, we are running behind the budget by $57,000.
St. Joseph Parish is experiencing the same trends as other archdiocesan parishes in terms of participation and giving. In the past four years we have decreased from 1,348 households (3,691 registered parishioners) to 1,266 households (3,351 parishioners). That's a 6% decrease in households and 9% fewer parishioners.
In a similar time period, giving has increased from $976,924 in fiscal year 2013 to $1,071,395 at the end of our 2017 fiscal year, a 9.6% increase (2.4% annual). Operating expenses, however, increased from $1,675,942 in 2013 to $1,867,724 in 2017, an 11.4% increase (2.9% annual). As you see, expenses are increasing faster than giving and this model is unsustainable.
Although contributions are showing a slight increase over the period, the decline in number of givers suggests that the average amount per donor is increasing. If the contribution trend continues or there is a modest increase in the giving amount, the gap between our revenues and expenses can be reduced.
We are not alone. The Joint committees will continue to study the data, gather all necessary information and develop a plan to help us address our needs in response to the trends.
Our fiscal year ends June 30. All giving counts and we want to especially thank those of you who faithfully support the parish and all of the programs and activities we sponsor. If you are able to increase your participation to any extent, you can help sustain our mission to be "The Hands of Christ … Open to All."
If you have questions about the statistics, I'm happy to share more information with you.
Read more about what is happening in our parish in this week's Bulletin.