St. Joseph Parish Mission Statement
The Hands of Christ … Open To All                           Las Manos de Cristo … Abiertas a Todos
The next meeting of the St. Joseph Parish Pastoral Council is scheduled
for this Tuesday, October 23, at 6:30 p.m. in lower level Conference Room A.
All are welcome!
Mark Your Calendars – Parish Annual Meeting
Saturday, November 10 after 4 p.m. Mass 

or
 Sunday, November 11 after 8 a.m. Mass
Parish Office Hours
Monday-Friday from 8:00 a.m. to 4:30 p.m.
and Sunday from 8:00 a.m. to Noon

Join us on the journey….and see how belonging to a community of faith in Jesus Christ,
rooted in the Catholic tradition, can make a difference in your life – and in the lives of others!
What We Offer:
Vibrant weekly worship centered in the Eucharist
Engaging faith formation and education for children, youth, and adults
Mission and outreach to those in need in our community…and beyond
A welcoming and hospitable community of faith and friendship in Jesus Christ
Learn more About our parish…
Pastoral Ponderings . . .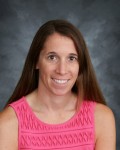 Amanda Matthews, School Administrator
"Carrying out the mission of the Gospel requires the committed, faithful effort of all the baptized. The mission and ministry of the church cannot be left for just a few people to do — we must raise up more and more people who hear the call to be disciples, ministers, and leaders."
– Saint Clare Center for Catholic Life at Cardinal Stritch University
As a Catholic School we continually look at our Catholic Identity. We strive to provide our students with authentic opportunities for spiritual growth, religious instruction, service, liturgy, prayer and ways to enhance their understanding of our Catholic Social Teachings. St. Joseph Parish School's Mission of "Teaching, Learning, Leading and Serving as the Hands of Christ," is woven into the daily lives of our students, teachers, faculty and staff.
Recently the school staff attended a conference called Sustaining the Mission at Cardinal Stritch University. Sustaining the Mission is a program provided by the Archdiocese of Milwaukee and The Saint Clare Center as an opportunity for teachers and administrators to look at their own spiritual growth. It focuses on providing adult instruction in six core theological areas:
• Scripture
• Creedal and Doctrinal Concepts
• Justice and Morality
• Liturgy Sacraments and Prayer
• Church History
• Formation for Mission
Sustaining the Mission takes place twice each school year, once in the fall and once in the spring. It is through these experiences that teachers enhance their knowledge of theology in order to bring that knowledge back to their students. As Catholic Educators we are called to continue to pass on our Catholic traditions and beliefs to future generations in order to carry out the mission of the Gospel.
Read more about what is happening in our parish in this week's Bulletin.