Save the date! St. Joseph Parish School Open House – Tuesday, January 29th, 5:00-7:00 p.m.
St. Joseph Parish Mission Statement
The Hands of Christ … Open To All                           Las Manos de Cristo … Abiertas a Todos
Parish Office Hours
Monday-Friday from 8:00 a.m. to 4:30 p.m.
and Sunday from 8:00 a.m. to Noon

Join us on the journey….and see how belonging to a community of faith in Jesus Christ,
rooted in the Catholic tradition, can make a difference in your life – and in the lives of others!
What We Offer:
Vibrant weekly worship centered in the Eucharist
Engaging faith formation and education for children, youth, and adults
Mission and outreach to those in need in our community…and beyond
A welcoming and hospitable community of faith and friendship in Jesus Christ
Learn more About our parish…
Pastoral Ponderings . . .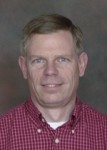 Jay Frymark, Director of Administration
As you can tell, my background and training is focused on accounting and other business matters so I don't usually delve into the readings for the weekends to which I am assigned. However, this weekend's gospel is one of the most familiar stories: the wedding at Cana and the beginning of Jesus' public ministry.
I remember an exercise from a high school retreat I attended. We were to pick any bible passage and rewrite it as if it happened current day. I chose the time Jesus cleared the temple of merchants. However, in my version there were ATMs, flashing signs, etc. and Jesus used the PA system instead of a whip of cords. So I was thinking what would the wedding of Cana look like today, especially in Wisconsin.
Would the tap beer run dry instead of wine? Would Jesus instruct the reception staff to gather the empty kegs, fill them with water and take them to the head waiter to sample? Would each keg be the beer preference to suit each one's taste? Would the guests realize that the best beer was yet to come?
I also like the second reading this weekend, so if you are reading this before hearing the reading, please pay attention. It describes the various gifts of the Spirit. Of course, not every gift is present in each of us so we must collaborate and share our gifts with each other in order to be productive. The end of the reading concludes that the "Spirit produces all of these, distributing them individually to each person as he wishes."
And so once again, we hear the story of stewardship: taking the gifts we have and returning them in service to each other. Just as Jesus received the gift of miracles, each of us has that special gift (or gifts) to share with each other to glorify God
Read more about what is happening in our parish in this week's Bulletin.