St. Joseph Parish Mission Statement
The Hands of Christ … Open To All                           Las Manos de Cristo … Abiertas a Todos

Hurricane Harvey Relief Options
Donate directly through the Catholic Charities website: www.catholiccharitiesusa.org
Donate through St. Joseph Parish:  Checks are to be made payable to St. Joseph Parish with Hurricane Harvey Relief on the memo line.  Hurricane relief donations will be collected through September 30th at which time a check will be issued to Catholic Charities in the amount collected for Hurricane Harvey Relief.
Parish Office Hours
Monday – Friday 8:00 a.m. – 4:30 p.m. and Sundays 9:00 a.m. – Noon

Join us on the journey….and see how belonging to a community of faith in Jesus Christ,
rooted in the Catholic tradition, can make a difference in your life – and in the lives of others!
What We Offer:
Vibrant weekly worship centered in the Eucharist
Engaging faith formation and education for children, youth, and adults
Mission and outreach to those in need in our community…and beyond
A welcoming and hospitable community of faith and friendship in Jesus Christ
Learn more About our parish…
Pastoral Ponderings . . .

Sheri Hanson, Director of Child & Youth Ministry
"Be patient with me and I will pay you back in full." – Matthew 18:26
It is interesting that in today's Gospel reading both servants, who owe a great debt, do not ask for forgiveness, but instead beg for patience. I think about the times when I have asked for patience – while I learn something new or while I struggle to overcome my shortcomings. When my younger daughter, Linnea, was learning to tie her shoes she asked for patience. She did not want us to tie her shoes for her, no matter how long it took her or if we would be late. She kept telling us: "Do by self!" She was like this with everything – climbing a rock wall, learning to read, or riding a bike, to name a few. She recognized what skills she needed and wanted the time and space to learn how to improve; therefore, she asked us to have patience.
Perhaps this is what the servants want. They ask for patience as they learn how to settle their debts, presumably because they not only recognize their great debt, but also want the chance to do better. I remember confessing to a priest that I was frustrated that I seem to always confess the same sins, that I continually face the same temptations and vices. He smiled and told me that I should not ask for more temptations and sins, that I should just continue trying to overcome the ones I have – with the help of Jesus, of course. The priest's message to me was one of patience.
Patience is a virtue that can help us forgive others, but also is a great asset when working with others, especially those who are learning something new. I witness this patience among our wonderful Child and Youth Ministry volunteers. Our catechists epitomize patience as they give our children and youth space and time to discover God and help them understand how He is speaking to them. Although our Child and Youth Ministry volunteers are not being called to forgive sins, they are nonetheless being called to embody God's patience.
 This weekend we celebrate Catechetical Sunday, so it is a great time to celebrate our catechists and thank them for all they do to introduce our children and youth to God. Let me be the first of many to say thank you for your patience!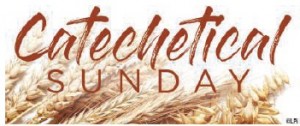 Read more about what is happening in our parish in this week's Bulletin.