St. Joseph Parish Mission Statement
The Hands of Christ … Open To All                           Las Manos de Cristo … Abiertas a Todos
Parish Office Summer Hours (June, July, August)
Monday-Thursday from 8:00 a.m. to 4:30 p.m.
Friday: Closed

Join us on the journey….and see how belonging to a community of faith in Jesus Christ,
rooted in the Catholic tradition, can make a difference in your life – and in the lives of others!
What We Offer:
Vibrant weekly worship centered in the Eucharist
Engaging faith formation and education for children, youth, and adults
Mission and outreach to those in need in our community…and beyond
A welcoming and hospitable community of faith and friendship in Jesus Christ
Learn more About our parish…
Pastoral Ponderings . . .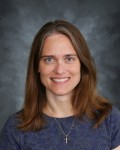 Sheri Hanson, Director of Child & Middle Youth Ministry
When we think of conversion, we often think of the unbaptized having an experience of God and then seeking Baptism. However, conversion is a turning away from other things to God. Even those of us who are baptized may have conversion experiences in which we find ourselves turning away from worldly distractions toward God.
In today's Gospel reading, Jesus invites Martha to turn away from her chores to focus on God. This is not to devalue Martha's service; however, Jesus' message is about choosing to be with God above all. Jesus invites Martha and all of us to turn away from whatever distracts us, including work, and focus on Him.
I think Workcamp mission trips are conversion experiences. We turn away from worldly things to focus on serving others. We spend long days in the sun working on improving homes. We give up comfort by sleeping on air mattresses in crowded classrooms. We sacrifice privacy by showering together in school gyms. We eat what we are offered, when it is offered. We do this for the love of God and our neighbors, this year for our neighbors in Pocahontas, VA. We do this in faith that God is calling us to this mission and that He is there with us.
I do not by any means want to portray Workcamp as a bleak sacrificial time. Indeed, we are filled up by the community of workcampers, the music at prayer, the joy of our residents and the companionship of our crews. The prayer services, the late-night conversations, the long days focusing on our residents – this all centers us in the moment and in the joy of serving God. Workcamp mission trips are a retreat from our daily lives to live in a prayerful community dedicated to serving those in need in Jesus' name.
This year's theme at Workcamp was Relentless. Even as we relentlessly worked on our residents' homes, we reflected on God's relentless love for us. His love relentlessly invites us into relationship with Him and each other. As He invited Martha to sit with Mary and listen to Him, Jesus invites us to be with Him in community, prayer and service. Workcamp provides us the opportunity to do just that. It is not just about service; it is about the conversion of our hearts to doing God's will.
Thank you for generously supporting us in this conversion experience. Please celebrate with us after Mass: hear our stories, view our photos and enjoy hospitality.
Read more about what is happening in our parish in this week's Bulletin.