The Hands of Christ...
Open to All
St. Joseph Parish Ministries of:
Parish School Exemplary Reception Saturday, September 30th Reception in Doherty Hall After Our 4 p.m. Mass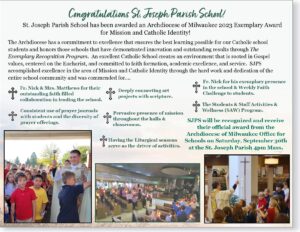 All parishioners are invited to join us in celebrating our parish school which has recently won the School Exemplary Award.
A reception will be held downstairs in Doherty Hall after the 4pm Mass on Saturday, September 30.
ALL are welcome to join us for hospitality.
If you can help with hospitality by providing a baked good or an appetizer, please sign up at https://tinyurl.com/SJPSSeptember30.
All food can be dropped off on a cart or in the kitchenette on Friday, September 29 through Saturday, September 30. Please label: School Reception. 
Thanks for supporting our parish school and for celebrating with us!