St. Joseph Parish Mission Statement
The Hands of Christ … Open To All                           Las Manos de Cristo … Abiertas a Todos

| | |
| --- | --- |
| Weekend Masses: | Daily Masses: |
| Saturdays at 4:00 p.m. | Tuesdays, Thursdays, Fridays, & First Saturdays at 8:30 a.m. |
| Sundays at 8:00 a.m. & 10:30 a.m. | Wednesdays at 5:00 p.m. |
Check the bulletin for times of Holy Day Masses and Masses for the hearing impaired.
Special hosts are available for those with a gluten intolerance. For those who wish to receive such hosts, go to the priest's communion line and indicate your preference to him.
Reconciliation: In the Reconciliation Room (north vestibule colonnade)
Wednesdays from 5:45 p.m. to 6:45 p.m.
Saturdays from 3:00 p.m. to 3:45 p.m.
Parish Office Hours
Monday through Thursday:  8:00 a.m. to 4:30 p.m.
Friday: 8:00 a.m. to Noon

What We Offer:
Vibrant weekly worship centered in the Eucharist
Engaging faith formation and education for children, youth, and adults
Mission and outreach to those in need in our community…and beyond
A welcoming and hospitable community of faith and friendship in Jesus Christ
Learn more About our parish…
Pastoral Ponderings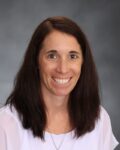 Amanda Matthews, School Administrator
➤➤➤ Read more about what is happening in our parish in this week's bulletin.