St. Joseph Parish Mission Statement
The Hands of Christ … Open To All                           Las Manos de Cristo … Abiertas a Todos


Parish Office Summer Hours
June 7-August 29
Monday through Thursday:  8:00 a.m. to 1:00 p.m. (or by appointment)
The church (canopy) doors will remain open until 3:00 p.m. Monday-Thursday.

Join us on the journey….and see how belonging to a community of faith in Jesus Christ,
rooted in the Catholic tradition, can make a difference in your life – and in the lives of others!
What We Offer:
Vibrant weekly worship centered in the Eucharist
Engaging faith formation and education for children, youth, and adults
Mission and outreach to those in need in our community…and beyond
A welcoming and hospitable community of faith and friendship in Jesus Christ
Learn more About our parish…
Pastoral Ponderings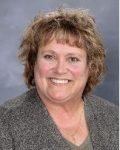 Madonne Rauch. Director of Stewardship
➤➤➤ Read more about what is happening in our parish in this week's bulletin.