St. Joseph Parish Mission Statement
The Hands of Christ … Open To All                           Las Manos de Cristo … Abiertas a Todos

 Welcome to Those Joining Us From Home
From near and far, here we are, looking in on St Joseph Parish, Grafton from a screen of some sort. Perhaps you simply want to find out our weekend Mass times, or you missed the Bulletin from last weekend, or you wish to contact a member of our parish or school staff. Easily done: follow the prompts, find your link.  Our parish and school website is also a portal to events and opportunities, soliciting your stewardship of time, talent and treasure, promising to engage and share services for your spiritual benefit and that of our surrounding communities. We truly are mission driven to be the Hands of Christ Open to All–we are all within God's reach and part of the divine embrace!
At this moment, we are in transition as we await the appointment of a new parish priest or director coming in June, 2022.  In the meantime, you will note that our pastoral and parish support staff members stand ready to assist your pastoral needs with the click of a link, an email, or phone call.  Don't hesitate; we want to serve you as best as we can.
New Year blessings throughout 2022,
Fr. Mike Barrett
Please take note: Section 1 of the church (far southeast section) will be reserved
for those who prefer to wear masks as per a recommendation from the Archdiocese.
Parish Office Hours    (September – May)


Sunday:

 9:00 a.m. to Noon


Monday

through

Thursday

:  8:00 a.m. to 4:30 p.m.  &  
Friday

: 8:00 a.m. to Noon
What We Offer:
Vibrant weekly worship centered in the Eucharist
Engaging faith formation and education for children, youth, and adults
Mission and outreach to those in need in our community…and beyond
A welcoming and hospitable community of faith and friendship in Jesus Christ
Learn more About our parish…
Pastoral Ponderings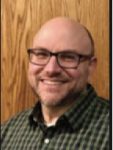 Deacon Scott Wiese, Director of Administration
➤➤➤ Read more about what is happening in our parish in this week's bulletin.